Dear Reader,
Welcome to the second edition of Dial M for Mango, the fortnightly newsletter from true-crime publisher Mango Books. In this issue we reveal the case which will be the next addition to the official Notable British Trials series, and offer the book for limited edition pre-order. We also feature an in-depth interview with the editor of what will be No. 85 of the NBT series.
BOOK ANNOUNCEMENT: TRIAL OF LOUISE MASSET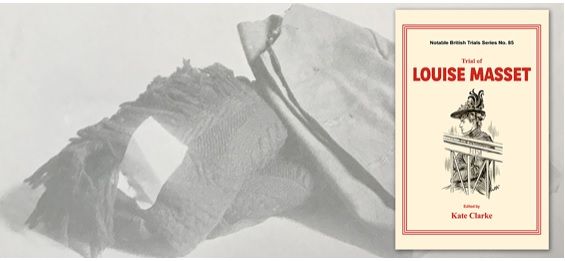 We are delighted to announce that the next title in the official Notable British Trials series will be TRIAL OF LOUISE MASSET, edited by Kate Clarke.
Shortly before 6.30 pm on Friday 27 October 1899, the still-warm body of a child was found on the floor of a lavatory on Platform 3 at Dalston Junction Railway Station; he had been bludgeoned and suffocated.
The child was identified as three year old Manfred Masset, and his mother, Louise, was quickly suspected of the murder. She denied it, saying that by the time the body was discovered she had already arrived in Brighton, where she had arranged to spend the weekend with her young lover, Eudore Lucas. So why had she truly removed the child from the loving care of his nurse, Nellie Gentle – and what were the true circumstances of this shocking murder?
Louise Masset was found guilty of the murder of her son and was hanged on 9 January 1900, the first person to be executed in England in the twentieth century.
This book - No. 85 in the NBT series - reproduces the testimony given at the trial, together with an introduction, a chronology and appendices.
Available to pre-order now, buyers will receive a limited edition signed and numbered bookplate.
To be published 28th February 2018.
To pre-order, click here.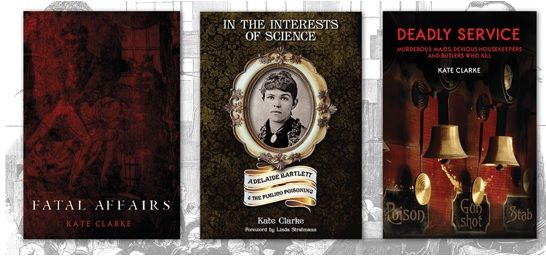 AN INTERVIEW WITH KATE CLARKE, TRUE CRIME AUTHOR
Hello Kate! Can you tell us something of your early life?
I was born in 1940, in Jerusalem. My father died serving in North Africa in 1941. Mother, brother and myself were evacuated with other Service families to Durban, South Africa, until we were finally able to return to England in 1944. I enrolled at Yeovil Art School in 1956, met Pop Artist Derek Boshier, and through him many of the artists at the RCA – David Hockney, Peter Blake and many others. This period was recorded in my book Journal [1958-63]. I subsequently taught in London schools for 21 years.
How did you get into crime writing?
In 1975 I frequently met with Stephen Knight and Bernard Taylor; Stephen was at this time writing his book, Jack the Ripper: The Final Solution.
In 1979 Bernard Taylor's Cruelly Murdered was published. Stephen asked me to write a chapter on a case – I chose Charles Bravo and proceeded to write Murder at the Priory, hurrying home from teaching in a London school and working from four until midnight; prior to the Internet, research entailed travelling by underground to rummage in the archives at Colindale Newspaper Library most Saturdays. After approaching a couple of publishers without success the MS was put away in a drawer. I wrote my book on the Adelaide Bartlett case, The Pimlico Murder, in similar circumstances in 1981/82.
In 1982 I left teaching in London and moved with my daughter to live in Hay-on-Wye. I worked in bookshops, at one stage in one of Richard Booth's many second-hand book shops, and for several years for Roger Capps, a master builder repairing castles, manor houses, churches throughout the Marches and the massive, green oak replacement ceiling of St George's Hall, after the fire at Windsor Castle.
Murder at the Priory was finally published in 1988, by Grafton. Bernard Taylor (who, by now, had a number of novels published) collaborated on the final version of which was short-listed for the Gold Dagger Award that year.
How did you build on that success?
The following year I attended the trial of Baroness Susan de Stempel at Worcester Crown Court; she was charged with the murder of her husband, Simon Dale. I helped research for Kate Wharton's book on the case, Blood Money, and corresponded with the Baroness throughout her seven year imprisonment for defrauding her aunt, Lady Illingworth.
My book on Adelaide Bartlett, The Pimlico Murder, was published by Souvenir Press in 1990, and Who Killed Simon Dale? And Other Murder Mysteries by Logaston Press in 1993.
Two years later I was given a MS on the Major Armstrong case written by a tea-planter, Toby Kane, which I passed to the Hay solicitor, Martin Beales. I helped with some of the initial research for his book, Dead, Not Buried, which would win the Gold Dagger Award that year.
The first volume of Journal [1958-1963] was published in my maiden name of Kate Paul in 1997. All subsequent volumes to the present day are held at The Mass Observation Archive, Special Collections, at Sussex University Library.
My book on local history, The Book of Hay, was published by Logaston Press in 2000, and enjoyed its third print in 2016.
How did you come to meet Mango Books?
In 2010, now with access to the internet for research purposes, I realised that Lady Uvedale's reminiscences about Adelaide Bartlett in 1915 - as related to Yseult Bridges in her book on the case - were inaccurate. To set the record straight I self-published a revised version of The Pimlico Murder in 2011. By a bizarre coincidence a copy was found by the crime writer Mark Ripper (MW Oldridge) in a charity shop in London and he contacted me. It was through his friendship and generosity regarding his own research material that he was instrumental in the publication of Bad Companions by The History Press in 2013. They had recently published his book, The Moat Farm Mystery.
It was through Mark that I made contact with Adam Wood of Mango Books over a proposed further revised edition of The Pimlico Murder, which was published in 2015 as In the Interests of Science: Adelaide Bartlett and the Pimlico Poisoning. Mango have since published another two of my books: Deadly Service: Murderous Maids, Devious Housekeepers and Butlers Who Kill and Fatal Affairs, all with excellent indexes compiled by David Green.
In 2016, The A-Z of Victorian Crime was published by Amberley: a collaboration with Mark, Neil RA Bell and Trevor Bond.
Much of your work is on cases involving women, especially those in service. Are you naturally drawn to that aspect of life?
There is a natural empathy with their hardships and lowly position; they were often the target of the pompous members of the Establishment who accepted their own privileged position in society as God given and regarded many of their fellow creatures as of little importance and not worthy of their consideration. Most of those 'wretched creatures', as they were often referred to if they ended up in the dock for acts of retaliation, revenge or sheer desperation – such as the likes of Mary Morgan, Sarah Drake, Sarah Gale, Eliza Adkins and many others - were victims not only of poverty but also the social structure of the time in which the status and well-being of women had yet to be redressed.
Yet equally interesting are those more well-heeled females who faced the wrath of the law – Adelaide Bartlett, Florence Bravo, Christiana Edmunds, Bertha Peterson, Celestina Sommer and, of course, the subject of the next book in the Notable British Trials series, Louise Masset. In recent times, matching those women in the dramatic court drama stakes is the case of Baroness Susan de Stempel, acquitted of the murder of her husband, Simon Dale, in 1987.
What are you working on next?
I'm working on Trial of Eliza Fenning for the Notable British Trials series, the classic case of a young maid in the dock of the Old Bailey in 1815, facing a coterie of Establishment figures, including the Recorder of London, and the Newgate ordinary, who subjected her to rampant prejudice on account of her class and religion and colluded to ensure her execution to protect one of their kind. The brief trial was a farce and seen as such a perversion of justice that it exercised the minds of many radical thinkers - Charles Dickens amongst them - and has remained a subject of conjecture and debate in legal circles ever since.
Kate Clarke's books In the Interests of Science, Deadly Service and Fatal Affairs are available on the Mango Books website.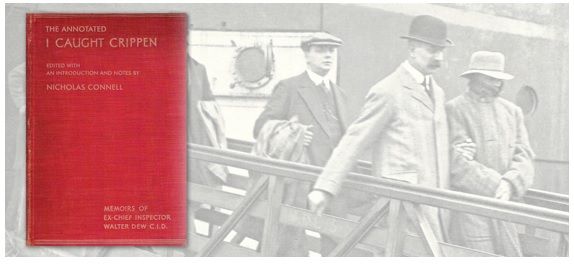 LAST CHANCE TO PRE-ORDER THE ANNOTATED I CAUGHT CRIPPEN
Nicholas Connell's book The Annotated I Caught Crippen will be sent to print this coming week, meaning this is your last opportunity to pre-order a copy and receive a limited edition signed and numbered bookplate.
Retired Det Inspector Walter Dew's 1938 autobiography I Caught Crippen has long been out-of-print. The Annotated I Caught Crippen makes this classic work available again, and contains a full transcription of the original text, annotated with footnotes including additional material from a newspaper serialisation of Dew's memoirs that has never appeared in a book before. It also features appendices of Dew's other writings and articles written about the celebrated detective during his lifetime.
To be published February 2018.
LAST FEW REMAINING COPIES OF RIPPERLAND
AND THE WHITECHAPEL ALBUM AVAILABLE
Two books charting the changing landscape of Jack the Ripper's East End are almost out of stock.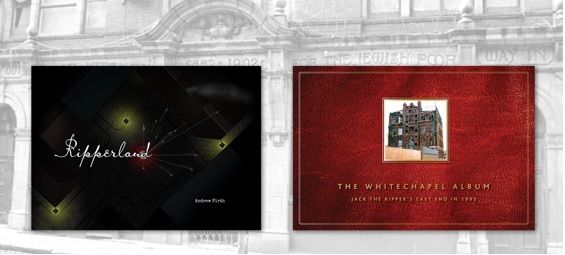 Andrew Firth's stunning RIPPERLAND contains more than 40 photomontages merging old photographs of sites associated with the Ripper murders superimposed into their modern day equivalent scenes, and over 130 colour and monochrome photographs of modern day "Ripperland". The acclaimed book is a unique visual survey of what now remains of those atmospheric Victorian streets and buildings.
THE WHITECHAPEL ALBUM, compiled by Loretta Lay and Adam Wood, features a nostalgic look back at Jack the Ripper's Whitechapel as it was in 1995 when photographer and Ripperologist Ray Luff visited the area and took more than 430 photographs. This book, limited to 100 numbered copies, contains 87 carefully selected images from '95 to present a snapshot of Jack's London as it was 23 years ago, along with six rare black and white photographs from the 1960s.
Just a handful of copies of both books remain – get yours now!