Dear Reader,
Welcome to the new edition of Dial M for Mango, the fortnightly newsletter from true-crime publisher Mango Books. In this issue we reveal a new forthcoming title, announce exciting news for our overseas readers, and give more information on this year's East End Conference. We also feature an interview with Joanne Vigor-Mungovin, author of Joseph: The Life, Times and Places of the Elephant Man.
NEW BOOK ANNOUNCEMENT:
THE DENHAM MASSACRE BY NEIL WATSON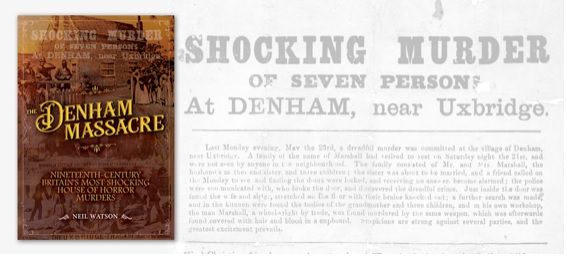 In May 1870, seven members of the Marshall family, including three small children, were found brutally murdered in their home in Denham, Buckinghamshire. They had all been bludgeoned to death with a sledgehammer, an axe and a poker. The crime scene looked like a battlefield or a slaughterhouse.
In The Denham Massacre, retired Metropolitan police officer Neil Watson provides the first full-length study of this sensational but largely forgotten Victorian murder case. He carefully reconstructs the events leading up to the crimes and their aftermath, and describes in detail the police investigation and the eventual arrest of the suspect John Owen, an armed and dangerous criminal with a long record of petty offending. Following a day-long trial, Owen was convicted of the capital crimes and executed at Aylesbury Gaol by the notorious hangman William Calcraft.
The Denham Massacre stands as one of the most shocking and disturbing cases of mass murder in British criminal history. Based on years of original research into the case, and drawing on his experience as a serving police officer, Neil Watson takes us unforgettably to the very heart of a real-life Victorian murder mystery.
It is a gripping, provocative read.
The Denham Massacre will be published at the end of March 2018.
Click here to pre-order now for limited edition signed and numbered copies.
OUR BOOKS NOW AVAILABLE TO OVERSEAS READERS

Live in America and want a copy of Andrew Firth's Ripperland?
Are you an Australian reader who's been after Woman at the Devil's Door for ages?

We're very pleased to announce that readers can now buy our books directly from our website, meaning that overseas readers frustrated by Amazon's refusal to take non-UK orders are now able to browse and buy from us!

Thank you to our readers overseas who have made enquiries about this service.
www.mangobooks.co.uk
2018 EAST END CONFERENCE WEBSITE NOW LIVE!
Further to our story in the last newsletter that we are proud to be part of the November 2018 East End Conference organizing team, we can now announce that the website for the event is live!
Here you'll find information on speakers, the venue and booking details. We'll be updating the site as we reveal more speakers, who will join Louis Berk, Philip Hutchinson and Drew Gray, as well as emcee Richard Jones.
Deposits are now being taken! There are a strictly limited number of places for the event, and more than a quarter of these have already been booked. If you would like to attend, we strongly advise you to place a deposit soon.
www.eastendconference.com
AN INTERVIEW WITH JOANNE VIGOR-MUNGOVIN
We're very grateful to Joanne Vigor-Mungovin, author of JOSEPH: THE LIFE, TIMES AND PLACES OF THE ELEPHANT MAN for taking the time to answer a few questions about her work on the book and revealing her current project.
Hi Jo! Thanks for taking part in this interview.
Could you please tell us a little about your background?
This is probably the most boring bit. I live and work in Leicester. I'm a registered Pharmacy Technician and a Verger at Leicester Cathedral, bodyguard to Richard III and obsessed with family history, having just found out my medieval hero John of Gaunt is my x18 great grandfather.
Why you decided to write a book on Joseph Merrick, given there are already a number on the subject?
As I said before, I'm surrounded by history. Leicester is well known as a Victorian Industrial town and its history has always fascinated me. A house my x5 grandfather owned in the 1860s still stands not far from where I work, and reading up about Victorian Leicester led me to Joseph. I'd read many books, but none of them told me anything about his life and family in Leicester. I wanted to change that. Joseph spent over half his life in this town and to me that is extremely important.
You met members of Joseph's family during your researches - how did they react to your approach? Presumably they must be contacted regularly from researchers?
I sent letters first. Sounds old-fashioned, but I believe a letter is more personal and can be picked up and re-read. Both sides of Joseph's family (the maternal and paternal) were very receptive and extremely interested and helpful. Both sides are very keen to keep Joseph's story alive, but also want the truth and not a made-up fabrication of his life. They have appeared in documentaries but neither side mentioned any recent activity.
JOSEPH is your first book - how did you find the process?
Quite hard in the beginning. I'd never even written as much as a newspaper article before, so a book was the stuff of nightmares! I was told to 'Start from the beginning', so I did.
In the book you correct mistakes published in the past about Joseph's life. Can you tell us about these? Did you set out to deliberately check the known facts?
Yes, I did. There aren't many books on Joseph. The earliest account was written by his doctor Sir Frederick Treves and the others that followed expanded on his writings, until you get to The True History of the Elephant Man by Michael Howell and Peter Ford, published in 1980. Unfortunately, the authors don't give their sources. Another book, written by The Friends of Joseph Carey Merrick, lists Ford and Howell's book in their research, so as you can see I didn't have much to go on. So every 'fact' previously written about Joseph had to be checked and doubled-checked. For example, it has been written that Joseph's family were incredibly poor and lived in the slums. Ok, I know from living in Leicester that the area in which the Merricks lived was classed as a slum post-WW2, but I also knew there were much poorer areas in Leicester. After all, Joseph's father was always in regular employment and owned two businesses, so it didn't ring true about them having to scrape a living!
One thing I am checking and considering is when did Joseph's condition start to really cause problems, and how much of the illness did his mother see before her death. In books it is recorded that Joseph said his condition showed itself when he was 5 years old. I have recently found a newspaper article from 1889, when a journalist went to visit Joseph in hospital and he states that the disease didn't start showing itself until he was in his teens!
The book has been very well received, and has led to you being invited to give talks on the subject, and to participate in many television and radio programmes. Can you tell us a little about these?
I've done a few local radio interviews and talks, which are incredibly nerve-wracking to begin with. But last year in March I went down to the old Royal London Hospital and did a little stint filming with Michael Portillo for his new television documentary series on Hidden Histories. We had a look at where Joseph lived while at the hospital and some of his personal items. The series is now being advertised and fingers crossed should be on Channel 5 when their new Spring season starts.
Can you tell us what you're working on now? And how is it progressing?
I'm working on a book based on the life of Tom Norman, the showman who exhibited Joseph in London. Tom had an incredible life and it's nothing like it was portrayed in the 1980s film The Elephant Man. I am truly gobsmacked at what I've read so far. Being related is a bonus. I am hoping to get the book completed and published in November 2018.
My book on Joseph was released in November 2016, and it will also be 134 years since Tom and Joseph met. More importantly, November will mark the second anniversary of the death of Valerie Howkins, Tom Norman's granddaughter. She was a lovely lady who so desperately wanted her grandfather's name restored, and I hope my book will achieve that.
Joanne's book JOSEPH: THE LIFE, TIMES AND PLACES OF THE ELEPHANT MAN is available in paperback on the Mango Books website.
www.MangoBooks.co.uk
Copyright © 2018 Mango Books. All rights reserved.