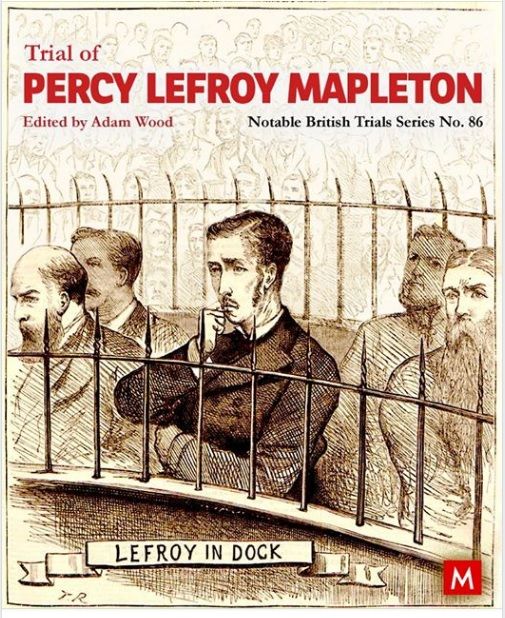 AVAILABLE TO PRE-ORDER:
TRIAL OF PERCY LEFROY MAPLETON
Notable British Trials Series No. 86
Edited by Adam Wood
'Gentlemen of the jury. Some day, when too late, you will learn that you have murdered me.'
The dramatic statement made by Percy Lefroy Mapleton moments after Justice Coleridge had passed sentence of death following a Guilty verdict was perfectly in keeping with the way he had lived his twenty-one years - full of drama, high-flown ideas and pipe dreams.
So disinterested was Lefroy in proceedings of the four-day trial at Maidstone Crown Court that he spent the majority of his time pre-occupied with his hat; he had asked permission to wear his dress suit in court, purely to impress the jury. His counsel, Montagu Williams, would later write that Lefroy assumed a studious pose whenever he caught a newspaper artist preparing a sketch of the accused.
The reality is that Lefroy had been found guilty of the most horrific of crimes to the Victorian sensibility - murder on the London to Brighton express train, on 27th June 1881. It was only the second time such a crime had been committed on a British train, after the killing of Mr Briggs by Franz Muller.
More importantly for the annals of crime, the case saw the first time that a likeness of a wanted man had been circulated in the national press, when the Daily Telegraph published a sketch of Lefroy in their edition of 1st July 1881.
The fugitive would in time be captured by Det. Inspector Donald Swanson. The inquest into Mr Gold's death was presided over by Coroner Wynne Baxter, who heard expert testimony from Scotland Yard's Divisional Surgeon Dr Thomas Bond. All three would rise to greater prominence during the Jack the Ripper murders of 1888.
In TRIAL OF PERCY LEFROY MAPLETON, No. 86 in the official Notable British Trials series, Adam Wood examines the reality of events of 27th June 1881 and compares the polar-opposite lives of Lefroy and Frederick Gold, and considers the impact of the Daily Telegraph's decision to publish the likeness of a man who was, at that point, still far from being proved guilty.
This book reproduces the testimony given at the trial, together with an introduction, a chronology and appendices, including Lefroy's autobiography, previously unpublished in full, annotated for this volume by the author.
Pre-orders will receive a limited edition signed and individually-numbered copy.
TRIAL OF PERCY LEFROY MAPLETON will be published in October 2018.
http://www.mangobooks.co.uk/book.php?b=34