Thanks to
Phil Carter
for bringing this to our attention.
********************************************
JACK THE RIPPER REFERENCE ANTIQUE HAND WRITTEN LETTER DATED JULY 12 1889
__________________________________________________ ___________
This is a letter that was in the pages of a religious book printed in 1890 by William Booth (Salvation Army founder). It was part of a deceased estate and reads as though sent from one Salvation Army Officer to another. It references a person described as a Lunatic, brandishing scissors, yelling or speaking nonsensically in what is described as a 'devil tongue' who is named as Kosminsky the Jew. On googling this name it quickly comes up with the cosmonaut that who has been a main suspect in the Jack the Ripper case as the possible killer. The letter is on paper that is EXTREMELY brittle. It has separated along the fold lines and is now in three pieces. This has been demonstrated in the photos with - - - - lines. The page is double sided and measures 110x140mm.
The letter reads:
My Dearest Sister
I surly received your kind letter dated a few days since, and was made glad to hear that you were still content in your works. Praise be to almighty God. Before this reaches you the sad intelligence of the death of our dear sister Rachel Bell will have reached you. She departed this life on Monday last around nine o'clock after much suffering. This most stirring news is delivered as such a sad dispensation. But we will continue to fight the gold fight. Walter sends his blessings. Mary's health remains well. She shares no exceptional news of late other than a she tock (?) ctd. From the Jew Kosminski Wednesday week past. On walking alongside the fruit barrow poor Marty room such fright when the lunatic ran at her with those ghastly scissors yelling his devil tongue. Mary ran all the way back. It's a wonder he has t hung for what he did to those poor girls and the terror he has delivered to poor Tilly. Please give my warmest tidings to brother michael and sister Jenny. We pray nightly of their works. I remain yours in Christ. Dott.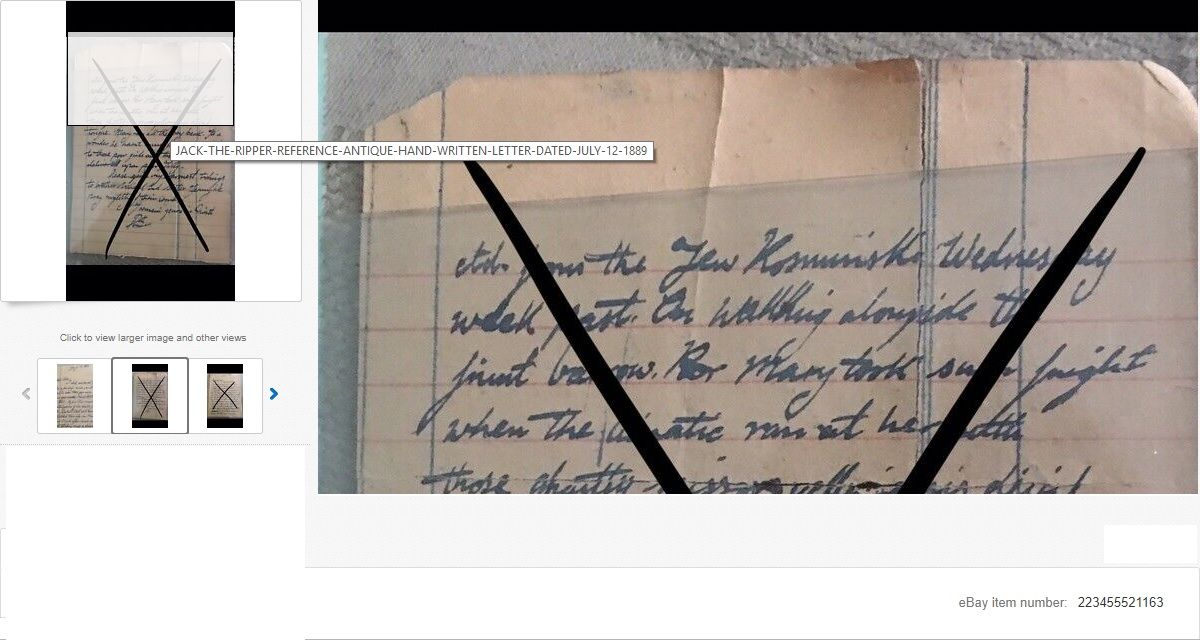 https://www.ebay.com.au/itm/JACK-THE...32d9e3ffc6584c