'Colonel' (President) Teddy Roosevelt....great man.
On October 14, 1912, while campaigning in Milwaukee, Wisconsin, Roosevelt was shot by a saloonkeeper named John Flammang Schrank. The bullet lodged in his chest after penetrating his steel eyeglass case and passing through a thick (50 pages) single-folded copy of the speech titled "Progressive Cause Greater Than Any Individual", which he was carrying in his jacket.Roosevelt, as an experienced hunter and anatomist, correctly concluded that since he was not coughing blood, the bullet had not reached his lung, and he declined suggestions to go to the hospital immediately. Instead, he delivered his scheduled speech with blood seeping into his shirt. He spoke for 90 minutes before completing his speech and accepting medical attention. His opening comments to the gathered crowd were, "Ladies and gentlemen, I don't know whether you fully understand that I have just been shot, but it takes more than that to kill a Bull Moose." Afterwards, probes and an x-ray showed that the bullet had lodged in Roosevelt's chest muscle, but did not penetrate the pleura. Doctors concluded that it would be less dangerous to leave it in place than to operate to remove it. Roosevelt carried the bullet with him for the rest of his life.
Like I said....a great
man
.
Marion
Daily Mirror
Marion, Ohio
September 13, 1910
*****************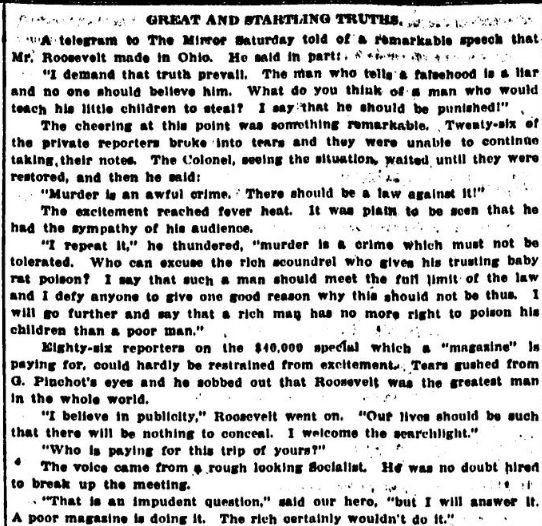 \
When Police Commissioner of New York City in 1894 ( Jacob Riis in the background), finding a constable loafing on the job. Roosevelt straightened the police out during his tenure as head man.