While not really a forensics issue....I thought it might be best to post this here.
Birmingham
Daily Post
September 15, 1888
****************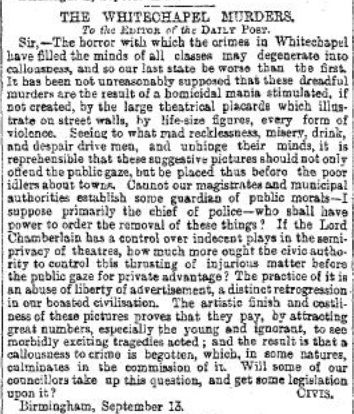 While reading papers from back in the day, one encounters articles featuring someone sounding the alarm at the images being presented to the public.
While some of us in 2011 might dismiss this as being slightly over the top..there
are
instances when we find someone from back in the LVP attributing their crimes in part to literature or images in books. I can recall at least two incidents where children emulated the Ripper and put the blade to another child and killed them.
Put yourself in the shoes of a 1888 man or woman...and if you have the time, explain what
you think
those images which appeared in newspapers or in other venues could do to a twisted mind or someone on the edge.
Thanks