...the fellows who screwed the pooch on this one.
This has to be the most mixed up account of a murder I've ever seen.
The murder of the Helena prostitute in France by a Chinaman living in a colony of Chinese ( undoubtedly mine workers or railroad laborers ) in Montana.
First...Helena, like Butte, had its share of soiled doves. The chances that one of these two fisted, flophouse,flat on their back floozies winding up in a famous spa town ( Aachen, or Aix la Chappelle) in Westphalia..... is pretty frigging remote.
There was no murder in Aix la Chappelle.
There certainly were no Chinese in the town.
There were Chinese in Helena.
But there is no record of a murder in Helena.
Birmingham
Daily Post
April 5, 1890
***********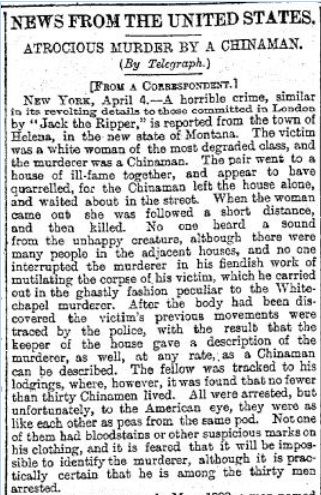 Omaha World Herald
April 9, 1890
************