Quick questions for one and all...Nina and I discussed the Chapman murder and John Richardson last night and although you can bet I came up with the really impressive points, she had a big hand in this too.
Let me start it off and please let me know what you think. Its been a while since I devoted much time to thinking ( no kidding) as most of my time is devoted towards newspapers and great captions. You'll notice I haven't put this into some sort of "formed" post.
John Richardson lived at 2 John Street.
Which
John Street are we talking about here ?
There's one in Camden Town....is this possibly
that
John Street ? Thats around two miles from Hanbury Street...IF.... this is the John Street in question.
Point to ponder,if you would....
....for a man who was as concerned with the security at 29 Hanbury Street ( mentioning that he would go by the residence on market mornings
regularly
since the place had been broken into a month or so in the past ) ...why did
he
mention ( at the Inquest, in the
Ultimate
on page 86) that he hadn't gone into the yard since he doesn't appear to have been prompted ? I might be wrong in that he was prompted, but for the time being, it doesn't appear he had.
Again, for someone apparently so concerned with Mom's security and to have traveled from John Street just to look at the front ( I am assuming the cellar could be accessed from the front here )
and not
the back, where one would think it would be of equal importance towards Richardson's peace of mind to see if that part of the building had been burgled....something's not kosher about this at all.
Would
you
travel a few miles to your Mom's and just look at the front but not in the back ?
I also wonder aloud about this cold he is supposed to have suffered. It had to make him pretty miserable, wouldn't you think ?
Therefore, why not alleviate this other problem about the leather on his shoe....and well before making it to Hanbury Street by removing it before he arrived.... .Simple enough I'd think. I know I would if I had a bad cold and my shoe was giving my troubles.
Synopsis so far.....Richardson traipses all the way from John Street ( by foot ? ) with this issue with his shoe....and then doesn't look at the back of the building, but goes to the top of the step just to take care of something he could have easily done elsewhere and prior to arriving at Hanbury Street.
What I am suggesting here, not that I am inferring that Richardson was her killer in the least... is that Richardson did see the body in Hanbury Street....as Chapman was dead when he got there. The voice that Cadosch heard say "No", was Mrs. Richardson's voice.
Richardson, in this scenario, arrived at 29 Hanbury Street to do exactly what he said he went there for : To check the premises.
However, in my little hypothetical situation here, he
did
go into the back yard, because to me it doesn't make much sense to travel all that way not to go, not just
look
, into the yard and check the back of the joint out. It simply makes no sense to halfass it after walking all that way...or even from a shorter distance.... In order to check the back of the building, he would have to go into the yard because from the top of the step, he couldn't see whether that area of the building had been tampered with.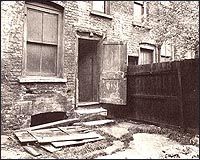 In this scenario, he sees her body and immediately gets in touch with Mom...who stated at the Inquest that she was unaware of immoral acts transpiring in the yard, yet being the same person who claims Johnny Boy has told her about lewd shenanigans going on in the passage of that very building... It doesn't require much imagination to figure that if people were as brazen to commit hanky panky in the passage, then they certainly would in the back yard.
The sighting by Mrs. Long has already been in question for the time of death issue with Dr. Phillips. In my scenario, it becomes questioned even greater as Chapman was dead by the time she, Mrs. Long, walked by Hanbury Street that morning. Mrs. Long, in my scenario, isn't a liar. She was just mistaken.
The Cadosch testimony doesn't suffer a bit, in my hypothetical situation. He
did
hear someone say "
No
..." The "no" he said he heard is not mentioned for its pitch or its timbre...any sense of urgency...just a plain old "No.."
It would explain why whomever was on the 29 Hanbury Street side of the fence didn't bolt or leave as one might suppose a man who has just disemboweled a woman would do upon being cognizant of someone on the 27 Hanbury Street side of the fence. They didn't have to. They, or she, lived there.
So, in essence and in closing,ladies and gents and Robert Linford, I am suggesting that the time of death was closer to 4:30 as Dr. Phillips suggested...Cadosch heard the voice say "No..", without describing whether it was an impassioned "no" or "no" uttered in terror...Richardson lied about not seeing the body, contacted Mom, they venture into the yard coinciding with Cadosch's own venture to the w.c.....and the cutting the excess leather off the shoe story is a bogus one.
Neither Mom or John Richardson did anything other than put themselves near the body at the same time Cadosch was present...and as a result, the story had to be created just in case the packing case makers needed one.
It explains why no one darted away when Cadosch made his presence ( assuming he wasn't walking on little cat feet to not disturb his neighbors on each side ) known.
Lets also consider that Chapman was out and about from 2 AM (ballpark figure) according to Tim Donovan at Crossingham's on Dorset Street.
We have had to believe or to imagine Chapman being out for over
3 hours
on the streets...walking...in search of doss money without doing so...since sleeping on the street could land you in jail. Being in jail meant not having her medicine... I do not believe she would have been still pounding the pavement after 3 1/2 hours of no success. I believe she made contact with the killer in the early part of Sept. 8th..well before the Mrs. Long version of events.
We have also had to imagine that the Ripper would be on the lookout at that time of morning ( 5:30 AM...one of the eternal problems with this whole story anyway you look at it...) which he had not done before,nor would he do again in the list of canonicals...or victims such as Coles & Mackenzie. Only in the Hanbury Street murder has the killer worked so deep into the morning.
I'd like to get some feedback on this and whether it makes sense to you.
Thanks for your time.