1862 Poem Eulogizing Prince Albert By Inmate Edward Oxford
Here is an exceedingly rare document,
an
original hand-written poem by the 'failed assassin' of Queen Victoria, Edward Oxford.
The 2-page poem has been made available to us courtesy of Stewart P. Evans.
(Thanks, Stewart!)
The poem is titled "Steadfast and True" and eulogizes the sudden and untimely death of
Prince Albert
which occurred one month previously in December 1861. Prince Albert died of of Typhoid Fever at the very young age of 42, leaving his wife Queen Victoria utterly bereft. In addition to being the Queen, she was the mother of 9 children, the eldest of them just 19 years old.
It's very interesting that Oxford wrote this poem, and couched it in such "High Victorian" romantic terms, as he was living in a Criminal Lunatic Asylum for having attempted to assassinate Queen Victoria and Prince Albert!
He actually fired 2 pistols at them as they rode in their open carriage. Prince Albert instantly flung himself over his wife to protect her, and the crowd wrestled the gunman to the ground.
Oxford wrote this poem while incarcerated at Bethlem Royal Hospital (Bedlam).
Like his fellow patient Richard Dadd, Oxford was transferred to Broadmoor when the new facility opened.
Edward Oxford Poem, Page 1: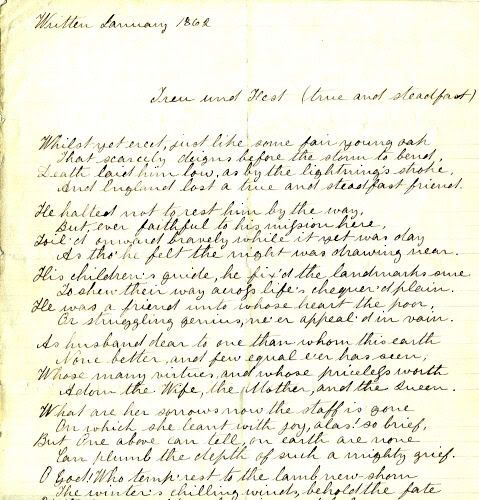 Edward Oxford Poem, Page 2: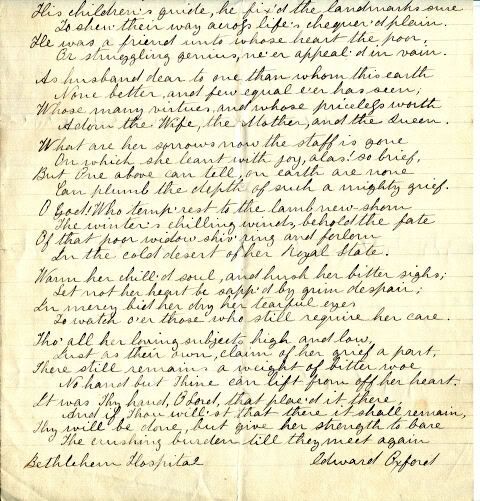 (Thanks to Rob Clack for helping to make the above images more distinct.)
Prince Albert, 1842 Portrait By Winterhalter: