In reading the book by David Monaghan, Jack The Ripper's Secret Confession...we learn of a few women who were prolific in crime in London & the East End. In fact they were just as involved with vice as any male counterpart.
Women such as the notorious madam
Mary Jeffries
, owner of brothels in Chelsea,Kensington,Hampstead and a torture chamber in Grays Inn Road (pgs. 129-130)
Birmingham Daily Post
Friday, September 30, 1887
....and her henchman,
Elizabeth Hobbs
, a.k.a. "Mrs. Travers", who procured and sometimes kidnapped young women at train stations (pg.87)
Birmingham Daily Post
Friday, September 30, 1887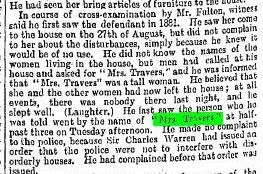 One other well known procuress was
Rebecca Jarrett
, who by the age of 16 operated a brothel herself. By the time she was 12, Mama Jarrett was selling Rebecca off to men in Cremorne Gardens,Chelsea. Rebecca operated brothels in Manchester, Bristol, and off Marylebone Rd. in London.
Jarrett collapsed outside a Salvation Army meeting years later, was transferred to the Rescue Home in Hanbury Street operated by Catherine Booth, wife of William Booth the general of the S.A. and from that point on worked on the side of the fence dedicated to eradicating child prostitution.
In 1885 she played a huge role in the W.T.Stead-led expose of the "industry" by returning to her old haunts...paying another brothel keeper,
Nancy Broughton
for the rights to 13 year old Eliza Armstrong. General Booth's son Bramwell took the youngster to France and eventually Stead was sent to prison for three months for this affair, which found Jarrett herself sentenced to six months.
Women were often the perpetrators of misery in LVP life and not just the recipients as we see.